A trip through the beautiful surroundings
Hiking trails
Are you a hiking lover? The wooded surroundings of Schaluinenhoeve are perfect for a long walk through nature. There is plenty of information available for this at the hotel reception. If you prefer to stay close by, there is a beautiful walking trail through the private landscape garden. Below are some examples of well-known hiking trails.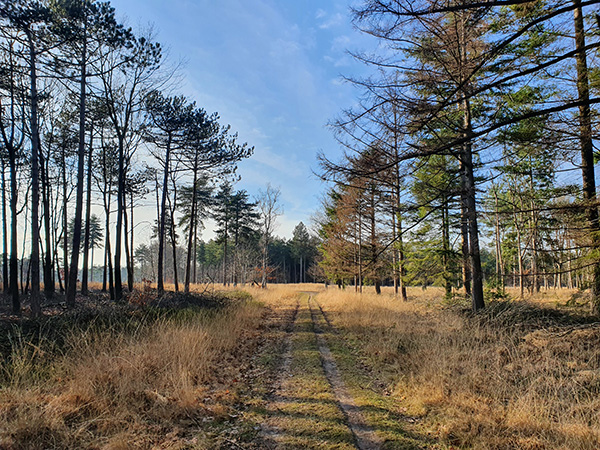 Enclave experience trail
The Enclave Experience Route is a special 7 km walk (expandable to 10.5 km) through the 'World Capital of Enclaves': Baarle-Nassau and Baarle-Hertog.
"The biggest jigsaw puzzle in the world? Baarle-Hertog-Nassau! The intriguing twin village has no less than thirty enclaves, sections of land completely surrounded by the territory of a neighboring country. With bizarre consequences, such as a border that runs right through a…front door! During this walk in and around the center, you hop between Belgium and The Netherlands dozens of times. Twelve information boards along the way will tell you more about this unique situation." You can easily reach the trail from Schaluinenhoeve. You can find the brochure of the hiking trail here (in Dutch).
Dead wire path
In 3 km you will pass a number of places that have a relationship to World War I. Among other things, you will pass a war memorial and an authentic piece of death wire. Click here to download the route.
Resistance Path
This 4 km hiking trail takes you past several interesting locations in and around Baarle-Nassau. Consider town halls, the old train station on the 'Bels Lijntje' and various military sites. Along the way you will find information boards and you can use QR codes to listen to stories belonging to that specific location.
Hiking nodes
In the surroundings of Baarle-Nassau there are several so-called "walking junctions". These are routes from 3 to 11 km along the river 't Merkske, a tributary of the Mark. The routes lead you through the beautiful countryside around the river 't Merkske. Due to the sometimes muddy environment, wearing boots is recommended.
Or determine your route yourself!
With the interactive route map below, you can map out your own biking or hiking route. The tabs at the top allow you to choose between biking or hiking. Zoom the map in and out to get a better look at the routes. By using the numbered nodes – a network of beautiful and clearly marked trails throughout the province of Noord-Brabant – you determine your own route.